XyloVan needs new seats.
Lord, visit this site how we need new seats.
Legions of nameless alcoholics, seek slouching through this former taxi-bus' years of service for a sober-living facility, site have shredded the fabric.
Looks like someone force-fed meth to a sackful of starving cats, gave it a good shake, slung it inside and slammed the door in 100-degree heat. The ensuing tooth-and-nail brawl for survival left a fine webwork of tattered polyester (and a few questionable stains) draped over age-browned fabric, itself shot through with rusty springs.
It's bad.
So off we go (after an already-exhausting morning sledding atMt. Pinos to the junkyard. I had called around, and the one place that told me they had seats that should fit (everything from '78 to '92 in Ford/GM interiors is interchangeable, apparently) that has an '86 Ford van is down in Carson …
It's deep in the industry-rutted heart of the L.A. Harbor docklands. The speeding ticket on the way in didn't make the area any more idyllic, but the LAPD motor cop was nice enough to cite me for 8207 (or something) which apparently costs only $50 instead of $400 and results in no points off my license, so I couldn't complain.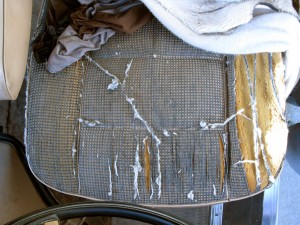 He seemed unnaturally obsessed with my Oakley sunglasses, but I think he let me off easy because of the wife and son in the back seat, the fact that I called him "sir" and the complete absence of intoxicants, weaponry, outstanding warrants, fix-it-tickets or lying-sack-of-shit hassle that I brought to the encounter. Good kharma? Mebbe just dumb luck.
On we drove, over potholed asphalt, past refinery tank farms and giant iron cargo cranes to a paddock of rusted corrugated fencing surrounding rack upon huge steel rack of carefully stripped and catalogued truck parts.
The guys behind the desk don't remember that I called, and insist they don't have anything older than '92. Which is why they told me on the phone that they did, right?
We bounce through a couple more junkyards, get the same blank looks. At one place – bustling with noise and bristling with computer screens ( a good sign?) – the guy behind the desk offered to call around for me. Yes, please!
"Calling around" entails mashing the button on your 2-way radio and bellowing like a grease-stained John Moschitta, "I NEED AN '85 FORD CLUB WAGON NEEDS A SET OF SEATS, SEATS FOR AN '85 FORD CLUB WAGON, '85 FOR CLUB WAGON, SET OF SEATS FOR AN '85 FORD CLUB WAGON, '85 FORD CLUB WAGON, NEED A SET OF SEATS, SET OF SEATS FOR AN '85 FOR CLUB WAGON, A FORD CLUB WAGON, SET OF SEATS FOR AN '85 FORD CLUB WAGON, '85 FORD CLUB WAGON, NEEDS A SET OF SEATS!!!" – and then waiting for approximately 90 seconds.
No answer comes back through the radioed beggars' chorus of overlapping calls just like it, and that's all we get. "Sorry, sir." He called me sir. I thanked him profusely, and jumped back onto my rotten seat for the long drive home.
I *could* buy a later-model seat, drill holes in the floor and run bolts through huge, flat washers to hold it down, but I'd kind of like to get the original seats – even if we do wind up driving the whole rig to Tijuana to get a cheap upholstery job.
Guess we'll be trying the Pick-Your-Part joint in Sun Valley next. At least we have plenty of time to hunt.