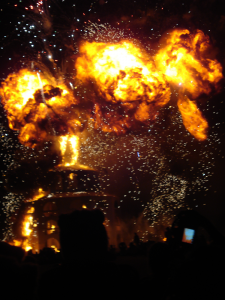 We left the playa 8 days ago.
We're still trying to figure out this exhilarating, \ exhausting, just-got-mugged-in-a-brothel feeling.
Our 9th burn – the 6th for our two kids – started out wild. Then it grew wacky, turned mostly wonderful – and then veered toward the horribly woeful and deeply weird.
In the end, 2012 was a kick in the skull, a warm meal in the tummy, a pyrotechnic blast of hot air, a goosing of the chakras and raw noise and (of course) the B e s t B u r n E v e r.
It's just that it all happened at once. And things got, shall we say, a little madcap.
Your keywords for joining XyloVan on this crash-dive burn are dust bowl, flying saucers, Gate badassery, Swing City, Burn Wall Street, Center Camp, playa throat, nude acrobatics, darkwads, polo-shirted virgins and Goddammit, is AAA really charging fucking $1,595 to simply tow us and XyloVan from Exodus to Reno? …
It all started on the wrong foot to begin with.
Last winter's ticket fiasco left us scrounging up tickets (we finally bought them legitimately at face value through our own channels).
But it also set the stage for one wild thing after another, punctuated by biblical dust, random delicacies and relentless pell-mell biking down gutbucket washboard roads.
See, the mad panic-buying run on tickets blocked dozens of theme camps from coming, and pumped twice the usual number of virgins onto the playa this year.
This boosted the number of unadorned, party-headed, non-participating, polo-shirted, moop-strewing darkwad clueless noobies to what the org later estimated was a crushing 30%.
Paging Dr. Darwin.
It also cut the number of mutant vehicles plying the dust by more than half and made for a patchworked – if largely satisfying – array of installations and performances.
And that's just the backdrop for our own giddy Turkish twilights.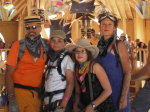 We (L to R – Factoid, Biomass, Hitgirl and Chuckles) pulled onto the playa on Aug. 24 – nearly three days before opening.

After waking up at 3 a.m. Friday the 24th for the 12-hour drive to Black Rock City, we hit the Gate and blew into town at 5:20 p.m. – just 10 minutes before the first of Factoid's five shifts of dust-eating, car-searching, hippie-hunting badassery on Gate and Perimeter.
In between volunteer duties (Chuckles cheerfully served coffee and drinks to the dust-addled late-night crowds at Center Camp) we humped steel scaffolding and bonded with the good folk of Swing City while helping them build their 3-story-high, shaded acrobatics rig.
Swing City hummed with its own life – It's a fantastic community of acrobats, gentleman/woman scholars and brilliant old souls in agile, young bodies never at rest. We fell deeply in love with them all, and are now happy to call them our adoptive clan on the playa (sorry, Kidsville).
At nearly any hour of the day or night, Swing Citizens worked out on the rig, flying the rings – or coaching and encouraging first-timer passersby who struggled to do the monkey routine, totter down the slack line or gawk overhead as Christian and others walked the highline 25 feet above the hardpacked playa.
We built and operated The Saucers, our latest project (full build log to come – at some point), much to the delighted "Oooohh"s and "AWESOME"s of passersby.
We sucked a lot of dust (Factoid contracted a nasty cold that degenerated into a wicked case of playa throat. This forced him to dress like an alien and AVOID TALKING (which sucked) to baby his pipes for the rest of the week.)
We saw brilliant art and interacted with every oddball, provocative, infuriating delight we could find.
We ogled fine mutant vehicles, outfits, and tattoos. We gorged on fresh chocolate-topped puff pastries and damn good jambalaya in the Black Rock French Quarter. We stumbled around the glorious Man strucure and the Pistil – Gregg Fleishman's astounding sculpture inside it.
And XyloVan – well, it stayed parked in camp, holding down the shade and (we think) sharing some joy.
But every time we stopped to hang out and chill by the xylophones, something new called us away – flat bike tires, wiring problems, more volunteer shifts, a nasty stove fire in our kitchen shelter, sunburn, playa hands or the next burn. It was. Non. Fucking. Stop.
Yet we enjoyed the magnificent swap-meet of creativity, happily cheered as Wall Street burned to the ground and once again decided no, we really didn't need to jump into a Death Guild match in Thunderdome, it's always more fun to watch.
We burned. Fitfully, but well.
The week ended softly on Sunday as we tore down Swing City, packed away the kitchen, tents and gear, folded up Xylovan's keyboards, exchanged massive hugs and farewells with our new brethren and tooled out on rutted, dust-puddled exit roads toward what BMIR promised would be a zipless 45-minute Temple Burn night Exodus.
And then … XyloVan barfed.
The battery blew out on Gate Road barely 2 miles from the exit – taking the starter and starter relay with it.
Black dash lights. No juice at the switch. Nothing.
Much cursing and gnashing of teeth ensued.
An attempted jump-stert failed miserably and confirmed the awful truth. we were dead in the lanes, in the dusty limbo between Black Rock City and Gerlach, clogging up traffic.
After hailing a BLM Ranger and then chatting briefly with Brushfire, who came out to check on us in his duties as Exodus Manager on Duty, we called AAA. They refused to take the call, saying we had to go through the RAngers.
So – we walked 100 yards back to where the BLM Rangers were searching a hippie camper with dogs – and before … tooo long … they sent a wrecker from BRC, and AAA towed us back into town.
Or more accurately, they towed us through a howling dust storm in the pitch-black to the floodlit reaches of Point One, a little Gate outpost that manages incoming service traffic (cops, truckers, porta-potty service) nearly a mile from the city
AAA stuck us in a shuttle bus. We waited 2 hours for the next multi-vehicle hauler to show up load XyloVan.
And then – at 1:30 in the morning (after having refused three months ago to upgrade our 7-mile towing coverage to 100 miles because another car of ours had been towed ONCE in the previous year) – they socked it to us:
AAA offered a choice – sit here in the dark waiting for a better deal – or pay the full $1,400 for the 137-mile tow to Reno plus $195 in "shuttle" fees to get our family there too.
Add to that the $50 hotel room and a $437 repair bill, and we got home 24 hours later than planned and more than $2,000 poorer.
Whee.
We're now planning to decorate a special corner of Hell for the entire AAA organization complete with B&D rack, dubstep sound system, a flame calliope operated by a hung over DPW worker who's finishing his fourth month on-playa and a pack of meth-crazed weasels armed with poison-ivy fronds … but enough of that. 2012 served up an Epic Burn and a good spanking to those among us who figured cockily they have this Burning Man routine sorted.
And we're sadder but wiser now.
We'll post a full photo gallery shortly.
Meantime, just to prove that XyloVan really did have some fun, here are a couple of videos.
And we're thrilled – THRILLED – to be planning for Decom in Los Angeles on Oct.13-14. XyloVan – and the Saucers – will be in full effect.
Decom is all the art, music, food and glory of the playa, it's kid-friendly and an awesome way to while way a few hours or the better part of a weekend.
Hope to see you there.