XyloVan is (mostly) FOR SALE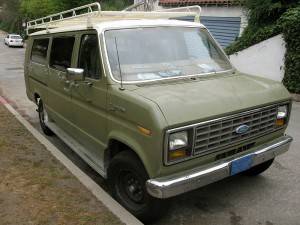 You read that right: This day had to come. We're moving, and the time has arrived for me to send XyloVan (1) on to its next incarnation. 
Underneath the instruments, (and the patina of wonderful music, noise and love that thousands of people have laid on them during its 9.5-year existence), lies a sturdy old 1985 Ford ClubWagon XLT. It is dying to be reincarnated as a new mutant vehicle – maybe yours.
I'm moving soon to a place where I won't be able to park its 25-foot length, and I've been thinking of changing XyloVan's basic design for quite some time now.
So, it's time to split the music from the van, and send both on to new lives.
I will mount the instruments on a new vehicle (design still in the works). And I am selling XyloVan's base vehicle WITHOUT INSTRUMENTS –  asking price $350.  
Somewhere out there, a fellow Burner with dirt under his fingernails and fire in his eyes needs this van – and can envision a new mutant vehicle built on this beefy, high-capacity foundation. Any questions?
Here's what you get:
 
1985 Ford ClubWagon XLT
7.5-L V8 engine, RUNS STRONG
Standing room on the roof (with a ladder and attachable chest-high guardrails!) for 10-12 people
Full-width rear step for easy loading of people & gear
Rebuilt V8 cylinder heads
Rebuilt carburetor
Rebuilt steering box and front end
New water pump
New alternator and voltage regulator
Near-new tires
Stereo/CD player with MP3 jack
Onboard 12V power system with two deep-cycle marine batteries
12V Arduino panel with 12 RGB/LED light circuits 
120V AC power inverter
Extra Flair: Burning Man Department of Mutant Vehicle daytime and nighttime permit stickers and playa vehicle passes for 2011, 2014 and 2018.
Full disclosures:
Xylophones and gongs are NOT INCLUDED
No AC. 
Some oil leaks.
Bodywork will have some holes left by removal of the mounted instruments. 
There is no body rust of any size, but the paint is heavily weathered
Must be jump-started at the moment, as it has a (probably simple) charging problem I'm not qualified to solve. 
Other than that, it's a rock with a ton of history and dust in it. It will definitely make thousands of passengers (and a few mutant vehicle builders with fire in their eyes) very, very, very happy.
Want to come by and take a look? Ping me!