---
XyloVan just learned that we will be joining Swing City in Black Rock City this August at Burning Man 2012.
Swing City is dedicated to aerial gymnastics – and the XyloVan crew is about as buff as a plate of doughnuts.
But we're as likely to monkey around on playground equipment as the next 5-year-old, clinic and can't wait to try out the rings, more about the silks and all the other gear.
So drop on by 9 o'Clock between C and D and serenade us while we're nursing a likely collection of sore muscles and bruises.
Come bang on the van!
We're tickled as hell to share this news:
---
We returned to the Egyptian Theater in Hollywood for a screening of the new cut of "Journey to the Flames, stuff " a travelogue/chronicle of one camp's 11-year citizenship in Black Rock City.
As usual, remedy XyloVan attracted some wonderful music: Here's a member of the Dirty Beetles art car crew just pouring himself into Keyboard 1:

Here's a more experimental/contemplative approach …
And here's how fabulous some of you all looked before, during and after the newbie orientation and playa fashion show. See you in BRC in a couple months!
---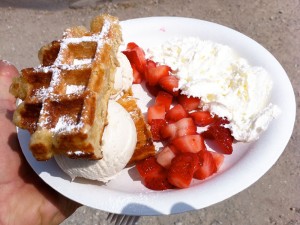 We spent the day Saturday at the L.A. Food Truck Chowdown with 50 of L.A.'s best food trucks, there live bands and hungry people who streamed past us all day long. Gorgeous weather. Enough said.
Kids banged on it:

This guy mapped out the "black" and "white" keys …

A father-and-daughter duet …

A steel-drum/percussion approach – once he got the extra sticks out of the way …

… and amazingly, nobody got barbecue sauce on it – or banh mi, or cheese balls or gumbo or marinara or sushi or cheeseburgers or cupcakes or maple bacon ice cream, or boba …

---
That was great – a little microburn without all the driving, approved heat and dust.
XyloVan trekked a massive 4.3 miles last night to the Egyptian Theater to help kick off the L.A. League of Arts Burning Man Film Series. We utterly devoured the fascinating first film in the series – Dust and Illusions.
Check it out wherever you can – it traces the community's 30-year-deep roots from a coagulation of like-spirited artists up through its raucous early years, the watershed '96 burn that spurred creation of Black Rock City and its rich, monstrous growth up to last year's 51,454-strong burn. If the nostalgia and inspiration don't grab you, the politics will – so many strong minds struggling to define the undefinable.
We had a blast setting up in the courtyard – many thanks to Beth and Athena for graciously making space for XyloVan, and to Dore and Cristina for sharing Calliope the Wonder Wagon and their judicious barge-guiding skills with us. Thanks to them, maneuvering XyloVan in and out of the 7-foot-wide alley through the courtyard was a joy rather than the nerve-shredding crunchfest it could have been.
Thanks, also, to the Krishnas for the wonderful food, spiritual generosity and musical interaction.
And thanks especially to all of you – happy burners, playful Angelenos and all the had-to-be-coaxed-but-wound-up-enjoying-it souls who made lovely music into the night.
Tons of photos after the jump – if you spot yourself there, drop a line in the comments and leave your name and link!
Continue reading
---
So, for sale we probably fit in with the circuit-bending loop/fizzbit laptop-jazz at Crash Space about as well as well as rubber boots at a tap-dance show, buy but hey, that was huge fun.

Thanks to everyone who (like these two) found their own sound tonight with fiberglass sticks and aluminum bar stock, somewhere between themselves and the van. I really enjoyed talking with you and hearing you play.

Tomorrow's all about figuring out that line buzz thing.



---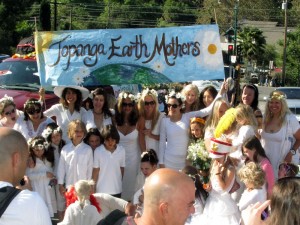 Ah, information pills the Topanga Days parade. It runs the gamut, decease from the sublime (the Topanga Earth Mothers group, this site right) to the yin-yang-diculous.
We were to take off last in the parade, and pulled in and set up next to this Lamborghini with the disco-cold-sweat paint job …
Continue reading
---