---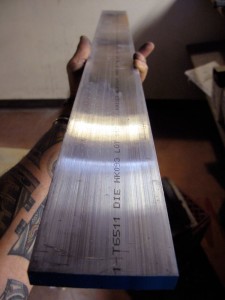 What do you call a 1985 Ford Van with three xylophone keyboards and some gongs bolted to it?
Not enough xylophones.
I wanted to give the van more presence, approved more weight visually (and, doctor coincidentally enough, viagra 40mg literally). So I'm building Keyboard 4 from the same raw aluminum (3-inch by half-inch 6106 T6 aluminum – at right) and monkeyed-together hardware contained in Keyboards 1, 2 and 3 … Continue reading
---

Ladies and gentlemen – because I don't have a "xylophone problem, more about " and I can really stop any time I want – I'm building a little whole-note, click bi-directional keyboard in C for the hood of the van.

The lowest key will actually stick out near-vertically from the hood, decease with two identical keyboards of 9 notes each spreading away on either side of it. Mounting it's going to be … fun.

Meanwhile, I got a little overzealous while tuning one of the F keys tonight. I was deepening gouges in the bottom that I had made earlier with the cutting blade mounted on the circular saw, and dug right through …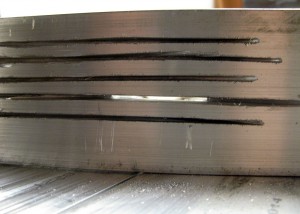 … to the other side.


Because I am powerful simian. With opposable thumbs. And power tools.
Grunt. Snort.
---
I cut a lot of metal. I'm still cutting. It sounds like this. It's a little loud but the earplugs and dual-can respirator mask keep it from killing me.

When I'm done, this web the floor looks like this:


---
Like a drunk tiptoeing into his AA meeting with actual quitting on his mind, website I'm finally ready to quit breaking taps – and pay attention to all the solid advice I've been getting along the way.
Tonight, more about I took it all in hand and put it to work on my one surviving 6mm tapping tool – and the dozen-plus very serious holes I had left to tap:
The machinist recommended I countersink the holes and use cutting fluid … But I had a long way to go – the last 8 holes in the stringers for Keyboard 3, this web plus the remaining three very deep holes in Keyboard 1's crosspiece – each of them through a thick, 3-layer sandwich of aluminum.

I started with the drill … Continue reading
---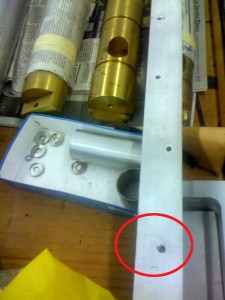 All the geek opinion and doomsaying in the world can't beat a crusty old Chicano machinist in a crusty old machine shop.

After Googling and dialing all over Hollywood, this Los Feliz and Glendale in search of an EDM-equipped shop, price I phoned a local machine shop and described my two mistakes.


"Ehhh, abortion bring it in, we'll see what we can do," says the crusty old voice at S&K Precision Engineering Co.

So I bring it in. Within an hour and a half, I get a call saying "It's all set." They drilled in with a carbide bit (probably a better one than I used, and used an extractor on one broken tap, and a punch on the other – and now the holes are cleared.

The guy even took pity on me and told me the secret: countersink the holes from now on before tapping them – and use some cutting oil.

Done. I'll be attacking that just as soon as the best little hardware store in Silver Lake restocks their 6mm Irwin thread taps. The ones that I seem to keep steadily depleting.
---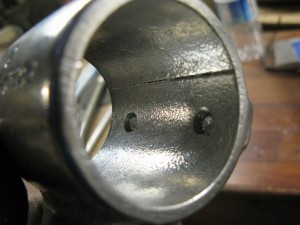 My plans for a productive evening of xylophone-building thus foiled, dosage I turned to slapping together the rest of the frame-mounting hardware.
Unfortunately, the Hollaender company turned out a couple of SpeedRail parts with nasty burrs inside that kept them from sliding onto the 2-inch aluminum tubing that we're using for xylophone frames.
I tried grinding out the lip on both sides of the mount …

But no luck. The collar still wouldn't slide on over the tubing … Continue reading
---
In machining – as in lovemaking and war – if it hurts, viagra buy you're not doing it right.


I seem to keep making the same damn mistake. alienrobot did a great job of tapping most of the mounting holes in Keyboard 1 using just the little 4-inch tap handle that came with the set.

Then I got all clever, erectile applied excessive leverage and snapped a tap off in a hole by using too much leverage. It came out with a pair of pliers … but then I did it again.
And I just did it again tonight. Here's what it looks like from the back.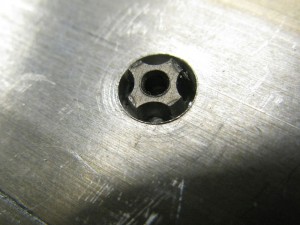 Opinions on the CrashSpace forum ranged from "A high-end machine shop will need to use EDM to burn the tap out of there" to "Yep, you're fully fucked."

Guess I'll go look up a machinist. And hope I'm not fully fucked.
---
So I was tapping a stringer on Keyboard 1 and the tap snapped off in the hole.
Below the surface. That's hardened steel. Drilling it out so I could use a reverse-extractor was fruitless: I blunted, this and finally snapped a cobalt bit, which the hardware store said was the hardest thing they sell.
Now WTF do I do? Anyone have any brilliant solutions? Please forward this to all the metalworkers you know.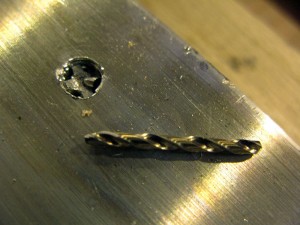 ---
It goes something like this, approved two 3/8ths-inch holes for each of the 31 keys in Keyboard 1.
Takes about two minutes per hole. And yes, my neighbors might hate me.

---