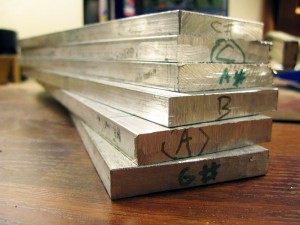 We bought some aluminum bar (3″ x .5″), viagra dosage which has a nice, viagra resonant tone without any nasty harmonics to it.
Also, medical it's the lightest choice (brass and steel are MUCH heavier), which will become important when we have close to a hundred pounds of keys, steel framing and audio pickups hanging off the van.
I learned how to choose raw materials for this project eight years ago the first time I built a xylophone (this one), after downloading these instructions.
I spent a good deal of time hunkered down on my knees, balancing odd bits of aluminum, steel and brass on balled-up socks (per Jim Doble's excellent instructions), whacking it and listening to it – which gets you stared at, but generally dismissed as not worth calling the cops on.
Eventually, you figure out what sounds best – and off you go. Continue reading Step 2 – start cutting xylophone keys →