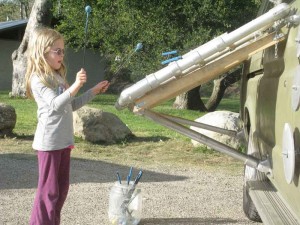 We introduced the van to my 11-year-old son's classmates and their families last weekend at a huge campout/gathering/party at El Capitan Resort up in Goleta.
Kids make the best xylophonists. They have sharp enough chops to make interesting sounds, mind even if it's playing "Chopsticks" together, and what they lack in precision they make up for in boundless enthusiasm: "Omigodthisistheawesomestthingever! Youmadethis? Omigodthisissofreakin'cool!!!"
Love it.
Thanks to everyone who played – I hope we'll see you all again before too long.
More photos after the jump … Continue reading