Building cajóns – all of a sudden
The old-timey title for this post could have been:
The Wisdom and Benefits of Contemplating a Temporary Shift from the Traditional Norm for This Institution in Materials, Methods, Design and Construction of Multi-Purpose Acoustic Percussion Instruments:
Or, a "Box to Bang On"
Because this post is about a kick in the head. A total world-shifting creative non-sequitur from all this demanding, burly, unforgiving metal I've been working with for so many years.
All of a sudden I'm building cajóns. Out of wood. Where did *that* come from.
Lemme back up a bit.
I've been goofing around with the idea of combining disc gongs with a sound box like the one I built a million years ago for my very first xylophone.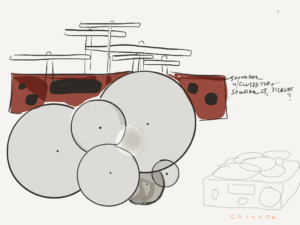 I wanted to explore: disc arrays, resonance, materials, instrument playability.Here's a sketch: —->
And then it occurred to me that the cajón (a sit-upon box drum with  roots in Peru and on loading docks everywhere) is such a perfect blend of structural integrity and resonance – like musical furniture – that if I could build one strong enough, it could do double duty as both metallophone and drum.
Gee, that sounds like a lot of work.
Maybe just start with building a good cajon to see if it's easy enough. So, after digesting half a dozen how-to's on YouTube and stealing some of the most interesting design ideas into my plan, I started my first.
Here's a ragged build log:
Here I'm cutting pegs. I pegged/glued together the box from 1/2″ plywood, then braced its front and rear openings with 1×1 square dowels (You'll see these later in the log – wish I'd taken more photos of that process).
I cut sound ports into one side of the box – the bottom for bass and the top-rear for high-end (the little hole in the center-right is for the snare mechanism)
I then installed 1/4″ plywood divider panels the width of the box, dividing bass from high-end. I inserted this dowel, collared at both ends to hold it in place, so that it pivots in the little holes to allow the snares to move.
I screwed the snares (the cut halves of a whole 14″ drum snare) to the dowel and lined them up so that when the dowel rolls forward in its holes, the snares brush the inside of the playing surface.
Screwed an old propane-tank valve-knob to the end of the control dowel
Tested it
Stained (red maple!) and varnished the box and screwed on some li'l rubber feet
Screwed on the nicely-varnished tappa
I wedged coins behind one corner of the tappa so that it warped outward a little bit (and removed them after a few days.) Now, that corner of the cajón delivers a nice "crack" note when you slap it.
This, coupled with the snares on the opposite corner and the bass notes you get when you hit the center of the instrument help it live up to its name as "drum kit in a box."
Et voilá!
Soon – adventures in wood dye.