Hey!
The Maker Faire crowd gave the van a good wringing (ringing?) out all day long, viagra and the gear all held up (mostly) great.

Welcome to all the Maker Faire folks who came by and banged on the van today. What a fabulous noise you all made!

Waves of people washed up against the side of the van all day long – it was so great seeing the variety of ways people interacted with the van …

We had glock-seasoned "bandies," at least one or two people who knew "Heart and Soul" or something even more sophisticated ( see above) and hundreds if not thousands of kids, all of whom bashed away with abandon.
We started off in the northern part of the South Lot at first, and spent a couple of hours setting up and getting wired for sound. We were parked right inside the front gate as people came in.
But a boomy PA system and a ballsy bluegrass crew (a nice one, at that) right across the way, plus the excellent hiphop noise coming out of the excellent scraper bike kids made it impossible for people to hear the van, even with our sound system running.

Thanks to South Lot manager Enki for helping us find a MUCH BETTER spot, behind the PA and right along a main route into the faire. Thoroughly excellent guy, and damn if there wasn't a sudden tenfold surge in people trying out the xylophones.

From the roof, here's the view of Keyboard 1 …



… and Keyboards 2 and 3 (L and R).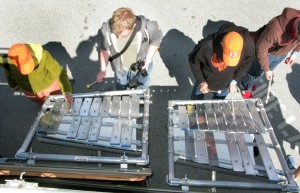 With kids pretty much pounding indiscriminately at the keyboards …


… we suffered more than a dozen busted sticks …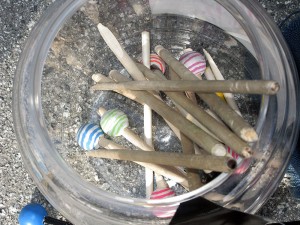 But fortunately, we brought plenty, and we wound up being able to salvage some of the casualties and armor the rest with a wrapping of Gorilla Tape. That oughta hold us, at least to the end of the weekend.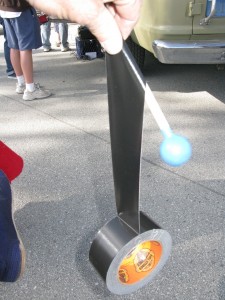 We're really looking forward to tomorrow! In the meantime, here are a couple more images. Thanks to everyone for enjoying the van – you made it a spectacular shakedown cruise for us!



And this kid is going places.