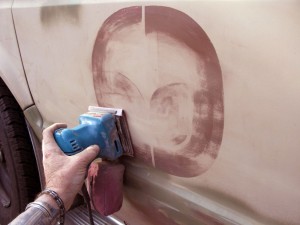 We had all sorts of crazy notions for decorating the van.

As vibrant as its post-70s-paint job and sober-living-facility-logo'd style were, approved we wanted to transform it – to give it a new visual life to match its new incarnation as a rolling instrument.

We thought about going hotrod-lowrider with a lime-green metalflake triple-clearcoat paint job and lots of chrome. But that seemed too garish and expensive. One local shop was asking $800 to $1,000 just for straight paint even if we did all the bodywork …
We thought about "murdering" it – as we say in L.A. – completely blacking out everything on it from the chrome to the lug nuts. But that seemed too goth.

And then we thought – what the hell, it's going to the playa, where anything we do to it will be heavily trashed anyway – let's dive into military mode.
Olive drab.

So we polished off the bodywork we began several weeks ago.
We masked off the windows and mounting hardware …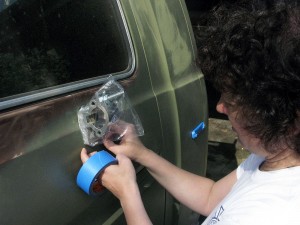 We ground off some of the rust and painted over the roof and the monster rack with a cream gloss variation of Rustoleum called "Antique White" …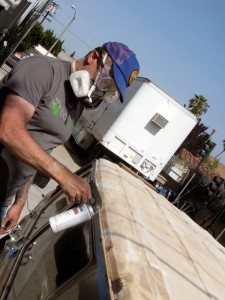 And we shot it with six cans of this stuff: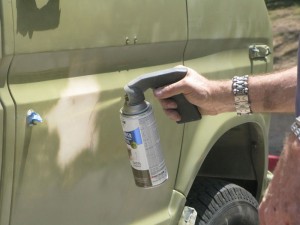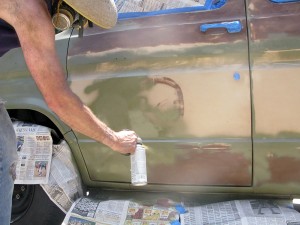 And we peeeeeled back the masking to see how it looked …

A thing of rude beauty: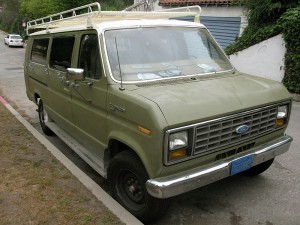 Green monster. Splotchy, blocky, gargantuan. A nice blank canvas for xylophones.