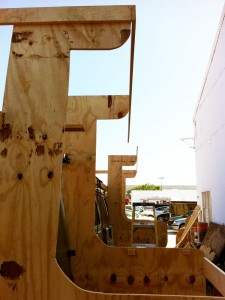 Once I re-hung all the profiles, I realized (yet again) that I am a complete idiot.
The saying goes "measure twice, cut once" but it does NOT say "measure three times, taking into account three-dimensional design, the fact that you're not on level ground and that you're a complete numbskull, cut once."
I had failed to take into consideration the … aw, hell, I won't bore you with the details. Anyway, the top-line `1x4s were misaligned by a good 4.5 inches.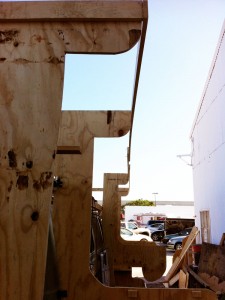 Suffice to say, I trimmed the tops of the front profiles on both sides to bring them into line with the rear profiles, then kludged together the 1x4s – the whole line will be hidden somewhat by the cloud shapes that we're attaching later to the top of the piano lid, so all's well … Continue reading Connecting the dots →