Well, it's like this. I'm an old hippie at heart – though I'm technically Generation X and more of a punk (I once broke my nose moshing at a Hüsker Dü concert – true story.)
But it's inspired by the opening line of Procol Harum's amazing A Whiter Shade of Pale: "We skipped the light fandango / turned cartwheels 'cross the floor …"
So, this mutation of XyloVan is all about wistful ballroom longing, and its heart will pulse with light.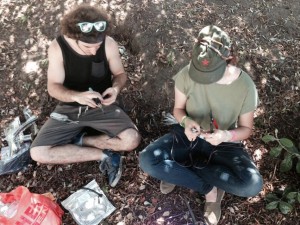 But I can barely connect a couple of wires without getting + and – mixed up, so I called in a pro. Swing City, our Burning Man theme camp, is lucky to have as a new member Spencer Hochberg – a champion unicyclist and engineer for the endlessly inventive Two-Bit Circus …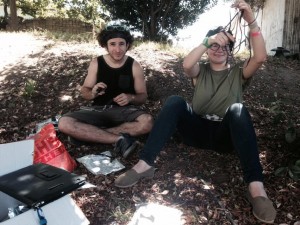 Spencer and his Two-Bit colleague Rina Shkrab got busy today wiring up XyloVan for 150 feet of computer-controlled RGB LED lighting ribbons that we secured from China by way of AliExpress.
This involved creating a wiring harness around the roof using prefab 4-pole wire from AliExpress, then when that ran out, home-brewing their own wire.
And *that* involved Rina uncoiling hundreds of feet of single-pole wire from some rusted old reels of it found in her garage. Spencer clamped the end of four strands of the stuff (red/white/black/blue) into the business end of a power drill, then walked away drawing out the wire and spinning it with the drill while Rina bundled and fed the wires to him.
The spinning drill basically twisted the stuff into neat 4-pole cables, which they began soldering to a series of connectors on the roof. This took MANY hours: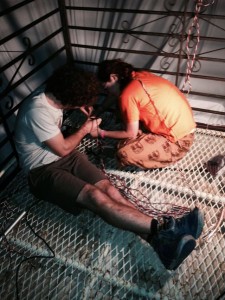 Here's the workspace.

Happy engineers …

… soldering every … single … lead.

Meanwhile, they ziptied strips of the LED ribbon to 8-foot lengths of PVC irrigation pipe so they can be easily set up and taken down.
And here's the result! This is just one strip – the final build will include 14 of them, all synchronized by a li'l Arduino microcontroller – details on that soon.