After nearly three months of cutting and grinding, cialis 40mg fiddling and drilling, cursing and screwing and painting, the magic moment is here.
Time to mount the xylophones on the van.
Here's video of alienrobot and me mounting Keyboard 2 which is the lower-octave and rear-most of the two keyboards I built for the passenger side of the van:




And here's what Keyboard 1 looked like as friend Steve Finkel and I mounted it on the driver's side …





Earlier, the kids took care of the last bits of assembly …



… installing rubber cut-washers and nylon-lined locknuts onto the last of the mounting-screws:



And here's how Keyboard 1 looks fully deployed (thanks to Brian Woodbury for helping me get the stanchions installed!

Here are Keyboards 2 and 3 in place on the passenger side – Keyboard 3 fits nicely next to Keyboard 2 when the sliding door is open. I'll be replacing the temporary wooden props with proper aluminum stanchions next.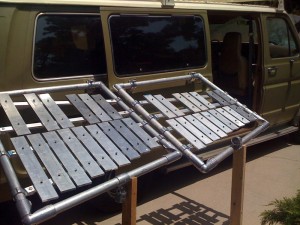 Yael gets some aggression out – note the way the shutter translates motion into psychedelic anomaly …




Do not mess with Wolverine …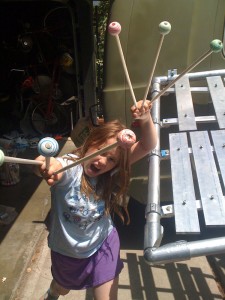 Keyboard 1, stowed for travel. We'll be adding the disc gongs and tubular bells to the rig, but that – along with all the wiring, lighting, amplification and logos, etc. – after Maker Faire.