Gongs all made!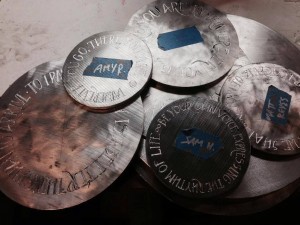 Just a quick one – these are the gongs we made for our Indiegogo supporters, mind all engraved and ready for their fittings. It's not too late to get one of your own!
A $150 donation to our big Burning Man project nets you a hand-engraved gong with your slogan Or inspirational quote of choice, a dowel chime, machined aluminum block pendant and slice pendant, crew patch and sticker. Just Paypal us at factoid@well.com and tell us your inscription in the comment field and we'll get right to work on it for you! Thanks so much to all our gong-level Indiegogo supporters!
Check out the demo video!