One of the drawbacks with the door from the junkyard is that it had a two-paned window instead of the nice big panoramic single light the original door came with.

Really fussy-looking. Kills the lines of the van (such as they are). And easily remedied.

First, seek remove the windows and the weatherstripping. Like this:


Notice the center mullion is just tacked in.



If it weren't there, pharm the single window could be installed instead, information pills on the same upper hinge brackets as the doubles, using the same latches and weatherstripping – provided you cut it out and prepare the weatherstripping flange correctly.

Cut the mullion out with a small jigsaw fitted with a hacksaw blade. (Thanks to my next-door neighbor, Eric for the tool tip on cutting sheet steel)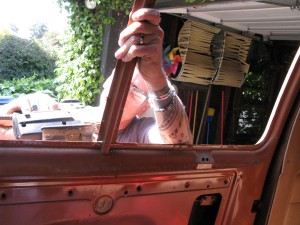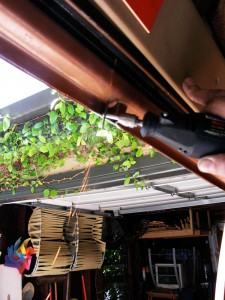 Then Dremel the leftover stub of mullion that was still tack-welded to the inside of the window frame …


Dremel the bottom off and make it clean, too …

And just install the weatherstripping and the big single window.
Voila. Panoramic view restored. Next we'll be tackling the interior.