So I spent Saturday morning in the junkyard with Dave (thanks, abortion Dave!), who helped me pull a rear door, a ladder and an extra panel of headliner.
Then I picked up a chunk of carpet remnant (right) which should mesh nicely with the body color and look pretty clean once I get it glued and screw all the floor moldings down again.
I spent a couple of hours cutting it to the shape of the vomitrocious (as my wife says) poo-brown carpet that had served as the van floor for a sober living facility taxi-bus and and for numerous band tours including one (or so John told me whilst selling it to me) involving the Germs.
I then promptly forgot to take a photo of the new interior until all the furniture was back in the van, none of it bolted down.
On Sunday, we yanked off the trim all the way around …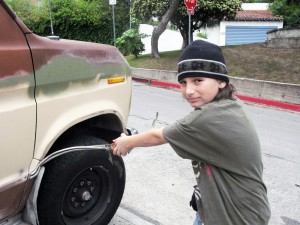 Continue reading Makeover, step 1 →