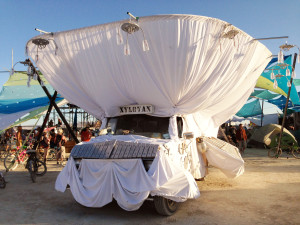 Like XyloVan's other mutation (Janus), The Light Fandango took shape over many weeks of building, sewing and all-round hackery.
And like Janus, the final product was disassembled for transport (via its own bad self) to the playa of Nevada's Black Rock Desert, where we then built everything back onto XyloVan to achieve its full mutation as The Light Fandango. (Here's the complete build log).
Last time, the crew was, um, me. I had some excellent help on teardown, but building Janus took me 2-1/2 18-hour days.
This year, we had an excellent on-playa crew: Sam Hiatt, Julie Demsey, Lindsay VanVoorhis, Dave Ayers and Jeremiah Peisert all kicked in (as did son Biomass and daughter Hitgirl). We didn't take a ton of photos because – hey, we were busy!
We rebuilt the framework out of pre-cut 1-inch EMT tubing and bolted it to the already-in-place passenger cage with U-clamps.
We then assembled the three sections of pre-cut, pre-bent (thanks, Bender!) tubing, and sleeved the pre-sewn lighting-scrim fabric onto the halo, and then hoisted the sections one at a time up on top of the framework – a series of struts sticking out horizontally from the passenger cage.
Then we let down the fabric and anchored it around the van, and attached the 10 fabric panels that hug the Ford ClubWagon XLT's endearingly brutish 1985 body work – skinning the entire thing in about 10-1/2 hours till it looked like the photo at the top.
We hung all 14 chandeliers from the tips of the struts (thanks, Kristina, Christo and Lee!)
I plugged in the LED light strips, only to discover that a power-supply problem was preventing things from working correctly, but Spencer Hochberg, our genius Arduino engineer crawled around underneath and got it running again pretty quickly (thanks, Spencer and Rina!).
More pictures and videos to follow in the next post. Meantime – thank you SO MUCH to Sam, Julie, Lindsay, Dave and Jeremiah (and everyone else who lent a hand) for helping us realize this lunatic dream.