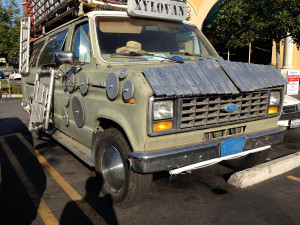 I'm writing this months later.
The dust has settled. XyloVan and crew have made a truly epic appearance at Burning Man in late August. And we have survived.
It's only now – after taking time to unpack, clean up, de-stress, re-enter the default world and process all the wild stuff that we experienced – that I have the strength to share the nasty, hair-raising saga of our stagger-step journey from Los Angeles to the playa.
Friends of XyloVan may remember the 2013 breakdown that led to this year's Indiegogo fundraiser and our amazing resurrection and team-powered facelift.
But most of you missed out on the panic, noise, danger and gnarliness that ensued. Here, at last, are all the gory details …We're all loaded up by dawn. Christo and Lee bid each other a teary farewell, and off we drive, north up the 5.
The engine feels strong. The music's good. The kids are chipper as hell, and Christo and I are bantering. He was up all night, so he crashes out while I drive.
90 miles or so to Mojave. We pull in to FasTrip.
And when I hop out to fill the dual fuel tanks, I see this: A bubble in the sidewall the size of my fist.
Shock: It feels like a small heart attack just pounded my ribs: This failed tire could have blown at 70, tumbling my children, my friend, hundreds of pounds of gear and water, XyloVan itself and yours truly across Highway 14 and the desert shoulders in a horrible wreck. And it didn't.
So … okay, I think, regaining my composure and my resting heartbeat while I fuel up.
Um. Guess we'd … better get another tire.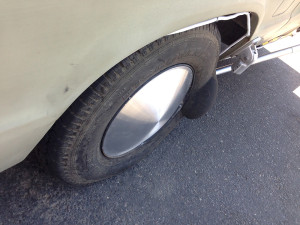 I Google up a tire store just a few blocks away. We drive over there and the tire turns out to be (of course) a weird size – 16.5-inch rims – but the store actually happens to have a used tire in stock.
The tire guy (Javier) mounts it up, we pay cash, and off we go, up Highway 14 and out into the now-late-morning desert heat.
Barely 10 miles out of town, the van starts lurching. Ugh. Fuck. What is this?
We pull a U when it's safe, ready to head back to Mojave, where there will be mechanics.
The van's lurching even more, like the transmission (which we could not afford to have rebuilt) is failing. I have to gun it quite a bit to get enough pressure up in the transmission to engage it, and pull over the shoulder so we can consider our options.
I quietly brief the kids so as not to wake Christo prematurely.
Then I hop out, lift the hood (including 40 pounds of Keyboard 4 mounted thereon), prop it open and curse some more at the double-plus-un-good smell of hot oil and god knows what else. The whole engine looks juicy. I can't figure out what's leaking.
But I pull the transmission dipstick, and sure enough, it says the sump is bone-dry. So I rummage for a funnel that can reach under the lip of the hood hinge to deliver transmission fluid into the filler hole – which also happens to be the dipstick tube.
I finally find something funnel-like. The business end is actually a larger diameter than the damn tube, but it's all I've got. So I line up the tip of the funnel with the top of the filler tube.
And I pour transmission fluid into the funnel, which promptly drools the volatile exotic chemical down the outside bottom surface of the filler tube onto the hot engine, which promptly … catches fire.
"Fuck!" I scream (like you do), "Get out of the van! Get out! There's a fire! Get out!"
The kids hustle out of their chairs and out through the passenger door. "Get away from the van!" I yell, and they clear off by a good 30 feet, panicked looks on their faces.
Flames are merrily devouring the coating of oil or tranny fluid or whatever it is all over the motor, and licking brightly up inside the engine bay towards the carburetor and fuel line.
Still screaming and cursing "Get out! Christo! Fuck! Fire! Get the fuck out of the van, Christo!" I sprint to the back door to get the fire extinguisher.
Christo is struggling awake, barely aware of what's happening, and can't figure out how to get the door open (he later tells me).
The kids jump to open the slider and get him out while I tearass up to the engine bay, now clutching the extinguisher, my mind's eye already imagining the entire rig and everything we've packed exploding in a greasy, black-smoked fireball – and us with it – if the just-filled fuel tanks blow.
I shoot the A/B/C extinguisher down into the bay and up from beneath. Acrid, puke-green clouds of chemical dust smother the fire. Pretty quickly, in fact.
I hover, panting hard, tasting the chemicals, smelling the fire, peering through the fog for signs of flame, but it seems to have gone out. So I curse a bunch more – quite floridly this time.
And I kick one of the xylophones (like you do) and continue swearing, until Christo calms me down. And I realize no one's hurt, and the vehicle's still intact.
I hope you'll forgive me for not having taken photos during any of this.
Anyway, after running through my extensive repertoire of curses (which is rather impressive – I was taught how to swear by my mom, who's quite the expert, having raised three kids of her own) and calming down a bit more, I pull myself together, and call our tow service.
They assure me they'll call me back once they've arranged for a truck – but they call back several times saying they're "still working on it" but cannot find a flatbed big enough to handle an extended-body 15-passenger behemoth loaded with more than 1,000 pounds of xylophones, water jugs and camping gear.
After an hour of this – and the engine safely cooled – we decide to take another stab at refilling the transmission fluid.
There's only a few ounces left; It's not enough to fill it properly – in fact, there's just enough for us to roll the last few miles into town – lurching all the way to the Mojave Ford dealership. (Yeah, yeah, Fix Or Repair Daily or Found On Road Dead, I've heard 'em all, ha ha ha very funny).
The service manager says the crew is out to lunch, so we grab lunch at Denny's and thank our lucky stars that we're so close to a dealership.
But when we head back over, the service manager basically refuses to put XyloVan up on a rack because the rooftop passenger cage makes it too tall to fit in the service bay.
Now what do we do?
Turns out there's a mechanic around the corner with an outdoor lift who works on RVs all the time. Great!
So we saddle up, and lurch the van around the corner – to where the outdoor mechanic is elbows-deep in an engine rebuild and won't have time to even look at us for another 2-3 hours. Maybe the mechanic at the tire place – the very one where we bought the used tire – can take a look and give us a read.
We lurch over to NAPA, buy a gallon of transmission fluid, and top up the sump. I start her up, and damn if the van doesn't run.
Then we lurch back to the tire shop (this is all taking place within about 10 square blocks of Mojave, the otherwise unremarkable little city nearest to Edwards Air Force Base, Scaled Composites and the Mojave Air and SpacePort) and see the mechanic.
He diagnoses that the transmission – now full – is just fine. The oil all over the engine is coming from – wait for it – a leak in one of the head gaskets that were just installed in the rebuild.
I dig up a few more curses for the guys who rebuilt it, and then agree with this mechanic that the engine can operate safely with oil leaking out of the head gasket so long as we keep the oil topped up and it doesn't "cross the streams" with the cooling circuit.
The coolant looks clean.
We need to get back on the road as soon as we can – our friends are already arriving on playa to build Swing City and we need to help them – as well as building XyloVan's elaborate Light Fandango rigging.
So on we go – now 5 hours behind schedule, but apparently roadworthy.
Barely 15 miles out of town, the rear end of the van starts shuddering. Nastily.
It's one of the rear tires. I can't see what's wrong, but it feels like crap – it's vibrating like a thrashed Vegas hotel mattress with "Magic Fingers" – so we pull another U turn and limp back to the tire place – now for the third time.
Javier discerns that the tire he sold me was bad. It's out of round, but he *does* have another used one sitting around.
We briefly debate the wisdom of doing this – but after a few phone calls we quickly determine that the closest truck-tire store is more than 50 miles away, in Ridgecrest – and they don't have the right size in stock.
This is the only tire we have. So he mounts it up – and then checks the other rear tire.
It's also out of round, and likely to fail (memo to self – next time you load up the van with hundreds of pounds of crap to drive hundreds of miles across the desert, check that the rear tires are fresh).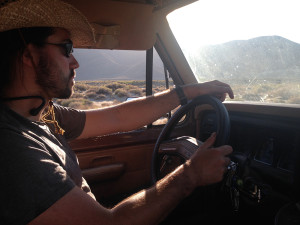 Well, I say with all due eloquence and exhaustion. Fuck it.
Put the spare on that one, put that one up on the spare mount, and we'll just see if we can make it to Lone Pine, or Bishop, or wherever the hell we're likely to find a tire store if we need it.
So he mounts the spare onto the right rear wheel, and off we go.
Praying. Hoping. Sweating.
And for the next several hundred miles … absolutely nothing wrong happens with the van.
There is no "other shoe" to this story.
No breakdowns. No blowouts.
No hours or dollars squandered on mishaps or messes. Everything feels stable as a rock.
We have a spare that – while it's compromised – is still capable of carrying us to the nearest city if we need it to. And the engine and transmission are running as if they had been doing it all day
In fact, we ride the entire way north to Black Rock City – through the entire amazing week of the burn, carrying up to a dozen people on the roof at a time (more photos of the actual fun are yet to come!) – and all the way back to Los Angeles – without incident.
Convinced, the entire time, that something – anything – could go sideways at any moment.
And everything … holds.
Until we get within 10 miles of Los Angeles and the transmission starts lurching again.
But we make it all the way home, dropping off Christo and Spencer (and their stuff) at their respective houses, and I park XyloVan just across the street from our house. Where it belongs.
And resolve to try to ignore it for a while until I decide what to repair first.