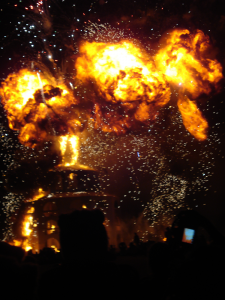 We left the playa 8 days ago.
We're still trying to figure out this exhilarating, \ exhausting, just-got-mugged-in-a-brothel feeling.
Our 9th burn – the 6th for our two kids – started out wild. Then it grew wacky, turned mostly wonderful – and then veered toward the horribly woeful and deeply weird.
In the end, 2012 was a kick in the skull, a warm meal in the tummy, a pyrotechnic blast of hot air, a goosing of the chakras and raw noise and (of course) the B e s t B u r n E v e r.
It's just that it all happened at once. And things got, shall we say, a little madcap.
Your keywords for joining XyloVan on this crash-dive burn are dust bowl, flying saucers, Gate badassery, Swing City, Burn Wall Street, Center Camp, playa throat, nude acrobatics, darkwads, polo-shirted virgins and Goddammit, is AAA really charging fucking $1,595 to simply tow us and XyloVan from Exodus to Reno? …
Continue reading Burning Man 2012 – Whoa, what was THAT all about? →