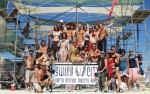 We're tickled as hell to share this news:
XyloVan just learned that we will be joining Swing City in Black Rock City this August at Burning Man 2012.
Swing City is dedicated to aerial gymnastics – and the XyloVan crew is about as buff as a plate of doughnuts.
But we're as likely to monkey around on playground equipment as the next 5-year-old, and can't wait to try out the rings, the silks and all the other gear.
So drop on by 9 o'Clock between C and D and serenade us while we're nursing a likely collection of sore muscles and bruises.
Come bang on the van!