Kind of amazing that I haven't already done something like this – sliced it open on the inside of the body structure while trying to thread a coarse nut onto a fine-threaded tap bolt. Duh.
Today we began sorting out the foundational hardware – the junk that holds the xylophones to the van. They're going to be big, look heavy, visit this site and somewhat springy, and we don't want them flexing loose or tearing the metal.
Rogan helped me hem and haw my way through the engineering challenge – how can we make the keyboards ride high enough when stowed that they won't scrape the ground – but still be easy to deploy and play? …
We finally settled on a wing-like assembly – the hinge (in the form of three hard-mounted pipe clamps – would run just below the window line on both sides of the van …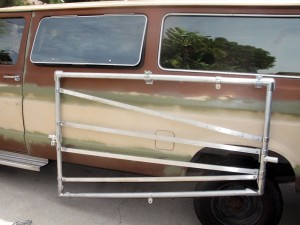 So here's the frame of Keyboard 1, in position with one clamp.
(Here's another angle)…
alienrobot demonstrates the clamps' effectiveness as badass-looking armor …


And here's how we went about it. After lining it up and marking the body for drilling, I put a half-inch hole in each location …

… or somewhere in the vicinity …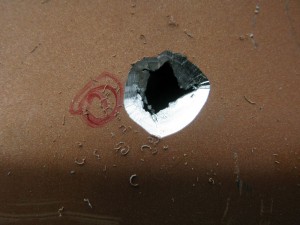 These are the Doughty clamps we installed – I had to hand-machine the aluminum slab that you see on the right side of the clamp here, for each mounting. It will help distribute the weight on each clamp and protect the bodywork from the worst of the buckling that's likely to occur. I'll also washer the hell out of it on the nut side once I get it going.
Or so I thought … (see previously damaged thumb-tip).
But eventually, we won – here's Keyboard 1, with all three clamps in place.

Once the keyboards are fully mounted, they'll fold out to play, at about a 35-degree angle, and then when we drive, we'll flip them straight up like wings and anchor them to the roof for travel.