It sounds a little like this:

---
The beauty of sharing a huge musical mutant vehicle is that – at any moment – something like this can happen:


… or this …

… or this …

… or this …

Thanks to THAT Damned Band, sale Titanium Sporkestra, viagra sale
, and all the musicians – trained, wild and accidental – who breathed life into XyloVan when we weren't around to enjoy. You're the reason we built it, and you're welcome to play it any time you like.
---
Because an art car is never finished.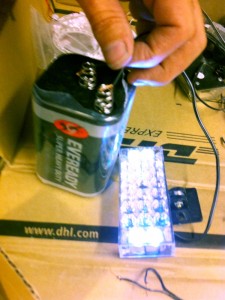 I disassembled all the light arrays from XyloVan 1.0, and I'm reassembling them onto the light bars I made for JANUS. This involves testing all of them, clinic including the flasher circuits …

… and then screwing them down. I'll wire everything up later today. (It's stupid-o'clock in the morning right now).

I also cut a stencil so that I can spraypaint warnings (PLEASE DON'T CLIMB HERE!) that discourage people from trying to scramble up onto JANUS' "shoulders," which are built to withstand the playa winds and sun, but not a 238-pound Java developer full of Fuzzy Navels and good cheer – let alone a 5-year-old child in a Wolverine costume.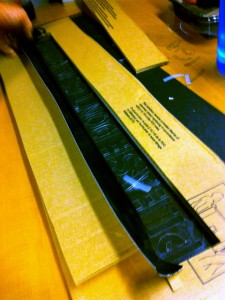 I then cut a frame for the stencil out of an old TV carton and put the whole thing together with Gorilla Tape (accept no substitutes!)
I've also been drilling out a few discarded xylophone keys that I plan to mount with the drums that will be installed on the Cloud Deck so that people riding on top will have more instruments to play.
Chugchugchug.
---
Clean enough, discount anyway.
That wicked line buzz is gone. It turns out I needed to ground the mixer to the chassis, link which involved tearing apart and then sewing up the 20-foot umbilical. That took a little while.
Pay no attention to my banging. I'm just banging. But it's sounding pretty lush. And I"m excited to show it off. Thanks to everyone who pulled up and talked to us this afternoon. It's all good.
Just a little more wiring to go.
---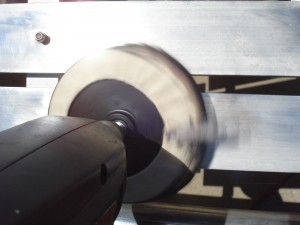 After sandblasting the instruments with Dave, and I was dead-bang positive I would want to polish them to a gloss.

Then I spent a year grinding away with the power drill and a buff pad during lunch hour today, and changed my mind.

An AP photographer stopped by and shot a bunch of photos of me working on the van – Damian something.
Anyway, despite going at 'em hammer and tongs for a solid 30 minutes with the Tripoli, then the jeweler's rouge, I wound up with only three half-shiny keys.
Life's too short. I'll buff 'em next year. Much more to do.
---

Thanks to Michael Greiner and Doeri Welch for inviting us and XyloVan to meet Michael's marimba orchestra last night. We had an awesome time banging on each other's instruments.
Here are Michael and a couple of his students working out "Silver Bells" with the loud mallets.
---
The folks at Industrial Metal Supply turn out huge orders of 3-by-half-inch-by-12-foot aluminum bar stock cut to measure for big industrial clients – then they sell the short ends and leftovers in 3- and 6-foot lengths at just $2.89 a pound. That – along with dismantled tube-aluminum equipment racks covered with stickers – is what makes up XyloVan's bones.
But that crap's unattractive, this site so my good friend Dave and I spent a good chunk of Saturday afternoon sandblasting the paint, stickers and grime off of the keyboards – remnants of the fact that the instruments are themselves largely made from recycled metal remnants. Or not sandblasting, rather, industrial-sodablasting … Continue reading
---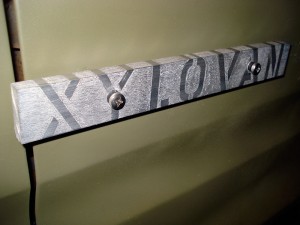 I really like the way the starboard name plate came out. It seems to fit the flow of disc gongs pretty well. It's playable, ambulance too.


---
Getting XyloVan amplified properly has turned out to be one of the biggest technical challenges.
First you need to capture the sound – for that, cheapest we built parabolic resonators out of sheets of fiberglass shower-liner. The material was perfect – sturdy enough for playa abuse and hard and reflective for sound. When you played, viagra approved the sound would bounce back to you off of the resonator surface like this… Continue reading
---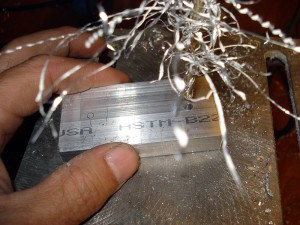 To carry two sets of speakers (one port and the other starboard), buy more about I'm installing pipes of 3/4-inch galvanized steel conduit onto the roof rack, by means of these custom-built brackets …
Standard conduit clamps grip the brackets to the big honkin' roof rack and the pipes slip through these to be screwed down … Continue reading
---