To paraphrase Ratty (or was it Mole?) there is nothing half so fine as an afternoon spent messing about in junkyards.
Rob was kind enough to join me in a trip to PickYourPart in Sun Valley, ampoule where the gutted wrecks hunker beneath the sun in neat rows. Parts lie in exploded clouds around them, and you can find pretty much anything you want.
We went looking for a Ford van – mid-80s – and stumbled almost immediately upon the carcass of XyloVan's dead twin …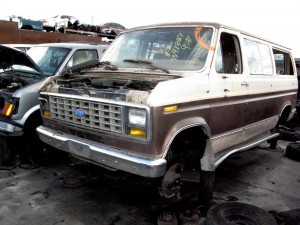 This was a regular ClubWagon, not the extended 16-passenger XLT, but it had the same shittastic tequila-sunrise paint/striping job …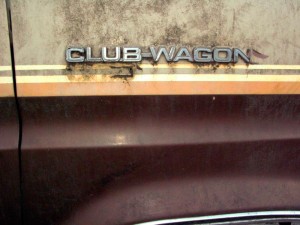 … and the EXACT same upholstery cancer as our vehicle.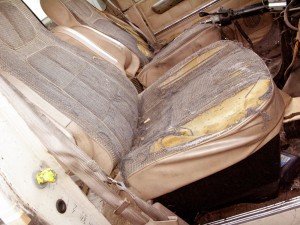 So we moved on, and eventually Rob scouted out a green van that had not only full-height buckets but some pretty handsome vinyl benches in the back. Sadly, the benches were Frankensteined into place out of some other van (Mopar or Chevy, I'll warrant) and were generally held in place with coathangers and spit, so we let 'em be and went at the buckets.
They came out nicely but the seatbelts were held in place by a completely immovable Torx bolt, so we let it be.
Took all of 15 minutes for us to finish pulling out both buckets. Then we took out the rim surrounding the headliner. This photo is a note to myself to install a nice rug-padded bumper right inside where you'd otherwise crack your head.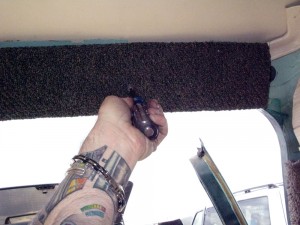 Rob loosens up the front section of headliner.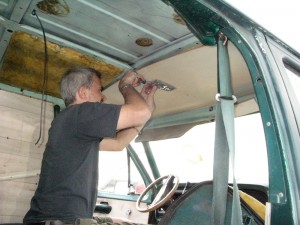 As I pulled out the panels of the headliner around the (very poorly-installed) sun-hatch, this trashbag peeked out. The roof seemed … thick with something behind it. Had we stumbled on some ancient smuggler's trove of Acapulco weed compressed into the ceilint panels? No – just a bad patch attempt on an even worse roof leak caused by the sun-hatch.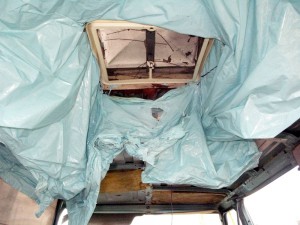 We moved on to check out a few more vehicles for seat belts – I had hoped for  a matching pair. We stumbled on them in this pimped-out conversion – its ceiling a rumpus-roof of quilted white vinyl.  While pulling the belts, we marveled at the furniture – captain's chairs fore and aft – These, in the front row – were pillow-topped, chalk-striped cream-and-chocolate velour – which looked kinda foxy (if you cut off the horrid little skirts) but would have been beastly-hot dust magnets and no fun for sleep.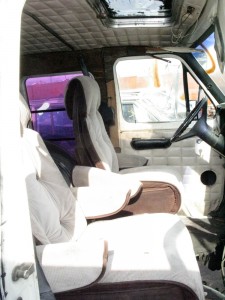 The pivoting captains-chair rears looked slicker – a sort of space-age shape in vinyl with lumbar pillows – but without reclining backs – and likewise, no fun for sleep on long flights to and from the playa.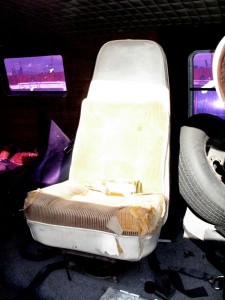 Besides, we had already pulled the high seats from the green van – along with a couple of tight-looking little Cerwin-Vega speakers that cost just 4 bucks apiece.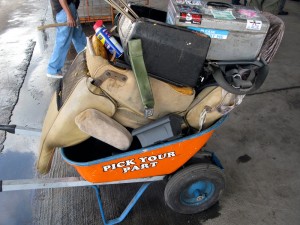 Yes, a fine day at the junkyard.

P.S. Thanks to Rob for the muscle and knowhow, and for introducing me to the staggeringly good shrimp tacos at the Best Fish Taco in Ensenada.