I got into a real rhythm last night and blew through a good 27 linear feet of aluminum bar stock, no rx cutting keys for the xylophones.
To the right here is what my shop floor looks like – thick with aluminum dust. I must have swept up 5 pounds of the stuff. (The logo on the floor reminds me not to crack my head on the face-height 6×10″ beam hovering just 5 feet off the floor – Â I'm always standing up under it suddenly. Not for nothing is the beam called The Widowmaker.) …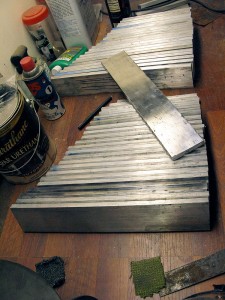 So now you're looking at two full sets of keys – each of which starts at a low F#, remedy rises through one octave and up into the next, store peaking out at D#.
The high notes have topped out on resonance. They're just too short to ring right.
You can get a note if you really whack them, which means we'll have to really amplify the crap out of them to get them to mix right. But there's a little more room in the bottom registers, so I think I'll try to add keys down to at least low D# so we can have two full two-octave keyboards.
I've looked at other thicknesses and sizes – from an 8-inch x 1/2-inch x 20 -inch plate to 3/4-inch-thick aluminum dowels. This is be best stuff, ounce for ounce.

Time to go back to Industrial Metal Supply to pick up more metal – and more cutting wheels.