So here's the solution to the problem I discovered yesterday.
The problem was that the xylophone – if bolted to the van with the upper hinge of the frame just below the windows – would have scraped the ground.
Solution: Get a few more Speed-Rail parts and create a sort of offset cantilever hinge. Built right, viagra it should pivot out and away from the van to playing position (about a 20-degree angle from the ground) when deployed, website like this then fold up flat against the van when stowed for travel.
First, information pills I have to modify one of the parts, a sort of T-joint that is too wide to fit between the anchors for the key stringers.

A little circular saw abuse – followed by much cursing and futzing and hollowing out the apparently mis-forged piece so that it actually *fits* over 1.5-inch pipe – and the piece now fits snugly between the stringer ends …


I'll bang this all into shape and lock everything down once I test-mount the frame and decide how long the pipe should be between the upper frame-support pivot …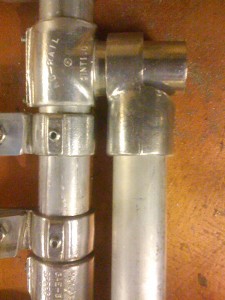 … and the lower hinge bracket:

What's missing here is the hinged clamps that will hold the top of the xylophone frame in place against the van while the lower hinged-stanchion affair tips the bottom of the xylophone frame away from the vehicle and up into playing position – about table-height.
You can picture that, right? Right??