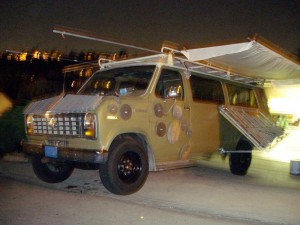 It's hot on the playa.
Relentlessly, discount often stupidly, this hot. So we're putting some shade over the keyboards.
We trudged around the Garment District the other day, case haggled with shopkeepers and for $3 a yard, walked away with this very light, opaque and strong synthetic fabric that feels something like raw silk and matches the van's trim in color …I sewed sleeves into it so that I could insert lengths of PVC pipe into its ends, then installed grommets through which I pulled tensioning cords.
The canopy is designed to have these rigged ends wrap around the speaker booms (lengths of 3/4-inch metal conduit attached to the roof rack parallel to the ground), and then the cords at either end tied together to keep the fabric fairly taut and not flapping too hard in the wind.
It will also sleeve onto another length of conduit that runs between the two booms so that in essence, it's framed on three sides by metal. We'll see how it goes.

It's mocked up here, held in place temporarily with rock-and-roll clamps so I can estimate where and how to sew the sleeves and rigging.