"It runs like a fuckin' champ!"
That's been the constant refrain, page all the way from purchase through our adventure to Maker Faire and dozens of trips in between. XyloVan has new tires and brakes, search a rebuilt Holley carb, and a well-tuned Detroit monster of a motor, and by god, it's the most mechanically sound thing I've ever spent $1500 on.
Well, not tonight …
The beast started coughing and never got its breath back. I'd start it up, and it would run for 30 seconds, only to die with a sound not unlike Mel Blanc mimicking a dying car in a Bugs Bunny short: "VmmmMMMtchk**-pocketa-pocketa-plugh-plughplubhgthhhhbbtt-BLUUURGGGHHH."
I checked the battery …
And tried swapping in the auxiliary battery. No go.
I pulled the engine cover and air cleaner and fiddled with the carburetor …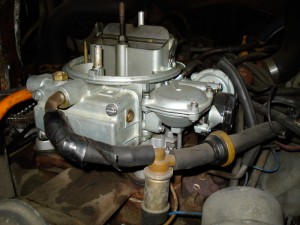 No luck. Constant stalling.
So, we had it towed from Pasadena back to Silver Lake. Which was exciting because it must weigh north of two tons, so that when you haul it up onto a little-bitty AAA flatbed wrecker, the wrecker's front wheels rise into the air. I kid you not. The ride back to the mechanic's garage was harrowing.